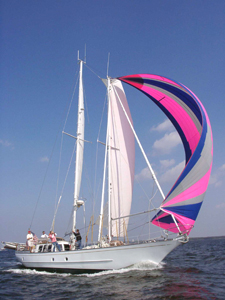 Schooner Heron, during one of her early runs in the Great Chesapeake Bay Schooner Race, using a borrowed spinnaker. During the Race we put the chute out on a pole. For daysails, and during charters, we'll use our cruising spinnakers which tack at the stem without a pole.
Schooner Heron Specifications:
Length Overall: 60 feet
Beam: 15 feet 6 inches
Draft: 6 feet board up, 13 feet board down
Displacement: approx 22 Tons
Sailing Rig: Staysail Schooner
Construction: Aluminum
Engine: 100 hp Detroit Diesel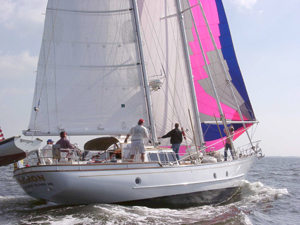 Schooner Heron was designed by French Naval Architect Dominique Presles and built in La Rochelle, France, in 1984. A sistership was built four years earlier, changes and improvements made, and Heron was the final product for this design.